Thanks to the support of our donors, volunteers, and community partners, in 2022 we provided legal services to: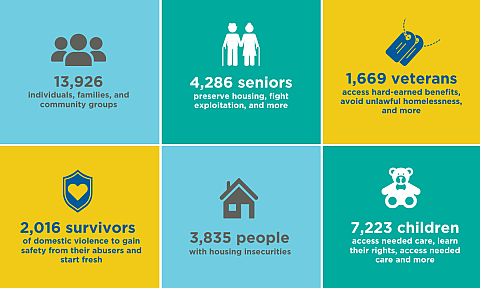 We Help Under-Served People in the Tampa Bay Area and Statewide
Statewide: 
We staff three statewide legal helplines in Florida for seniors, veterans, and victims of disaster. 
Locally:
We have offices, on-site legal clinics and partnerships in Hillsborough, Pasco, Pinellas, Manatee, and Sarasota counties. 
In 2022, we expanded our service area to low-income seniors in Hardee, Highlands, and Polk counties. 
In 2022, we answered 73K calls through our statewide & local helplines:
FL Disaster Legal Helpline

FL Senior Legal Helpline

FL Veterans Legal Helpline

Legal Aid Line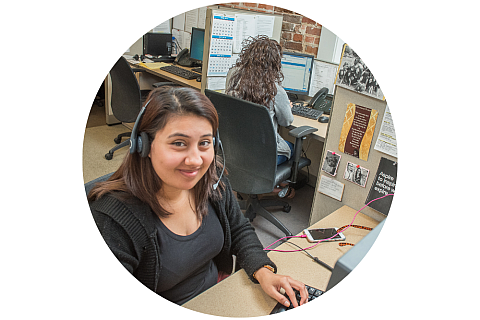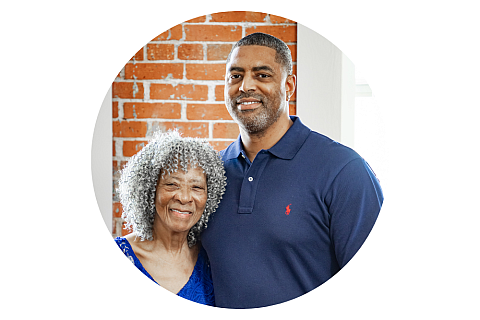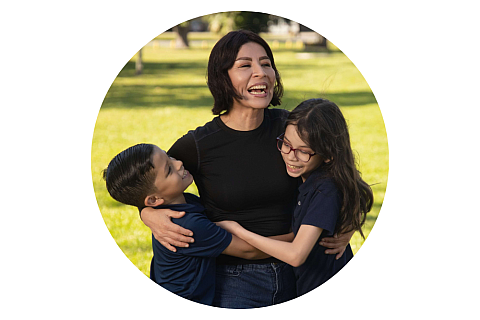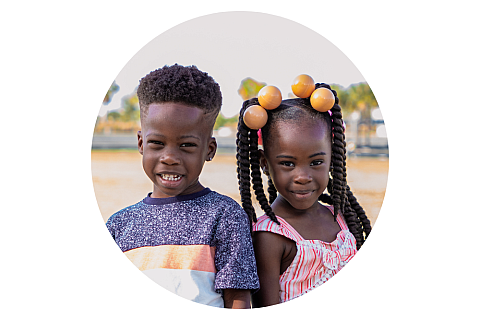 What We Did in 2022 For...
Seniors:
Extended aid to low-income seniors (60+) in 3 new counties: Hardee, Highlands, and Polk.
Trafficking Survivors: 
Expanded our advocacy for victims of crime with a new Human Trafficking Victim Civil Legal Support Project. 
Victims of Disaster: 
Launched our newest statewide helpline for disaster victims, providing statewide education and assistance.
Youth in Foster Care:
Began work on the "FosterPower" app and website. FosterPower is a movement to improve the lives and futures of youth in foster care by advocating access to information on their benefits, protections, and legal rights. 
People with Housing Insecurities: 
Following the pandemic, we partnered with City of Tampa and City of St. Petersburg to fight unjust evictions and foreclosures. 
2022 Cases by Area of Law
Bay Area Legal Services provides free civil legal help to eligible residents of our five-county service area, and seniors and veterans across the state of Florida.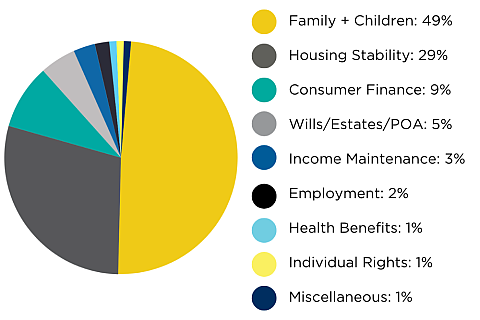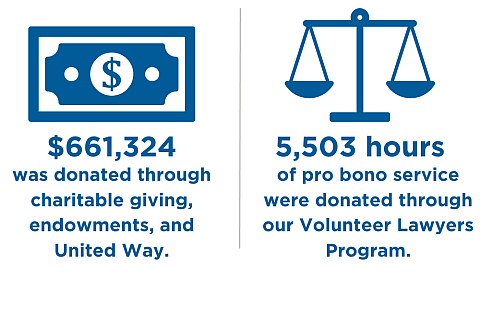 Our Supporters Made a Difference
Bay Area Legal Services relies on the generous annual support of our donors and volunteers to make this aid possible.
We receive program funding from a variety of contributors. Click here to view a list of our partners.
Special Thanks to Our 2022 Leadership
Board of Directors
Andrew M. O'Malley (Chairperson)
Yohance A. Pettis (Immediate Past Chairperson)
Tori C. Simmons (Chair-Elect)
Sarah Lahlou-Amine (Treasurer)
Vivian Cortes Hodz (Secretary)
Michael A. Bedke
Rebecca C. Bell
Caroleen B. Brej
Jeffrey E. Cox
Cynthia Davis-Gryce
Valorie Hoppenworth
Adriana Huapilla
The Late David T. Knight
Yolanda V. Lee
Paul Martinez
Alex M. Sarsfield
Ella A. Shenhav
James D. Thaler, Jr.
Victor Van Pelt
Barbara Williams
Development Council
Craig E. Rothburd (Chairperson)
Sara Alpert Lawson (Vice Chair)
JT Garabrant (Advisor)
J. Kevin Carey
J. Daniel Clark
Karen E. Cole, CFP
Alexis M. Cotten
R. Thomas Elligett (Immediate Past Chairperson)
Norman A. Harris
Charles F. Ketchey, Jr.
The Late David T. Knight
John F. Kynes
Lauren T. Mehta
Lisa Montero
Cory J. Person
Robert A. Shimberg
Jacqueline A. Simms-Petredis
Edward M. Waller, Jr. 
Jessica Smith West
Senior Leadership
Richard C. Woltmann (President/CEO)
Joan C. Boles (Deputy Director)
J.P. LaCasse (Chief Operations Officer)
Lisa L. Brody (Assistant Deputy Director)
Development Volunteers
JT Garabrant
Michel Pharand
Michael M. Sinclair Photography
Thompson Brand Images
Special Thanks to Our Donors
Donors with asterisks* were in-kind or event sponsors in 2022.
Supporters who donated $10K+ in 2022. 
Barnett Kirkwood Koche Long & Foster, P.A.
Luis A. Cabassa
Carlton Fields, P.A.
Citi
Florida Lawyers Mutual Insurance Company
Holland & Knight LLP
Metro Places*
Harley E. Riedel
Rissman
Rywant Alvarez Jones Russo & Guyton, P.A.
Shutts & Bowen, LLP
The Spurlino Foundation
Ellen S. Stichter
UniCourt Inc.*
Supporters who have made a 3-year commitment through the Justice Works! Campaign.
Charbel J. Barakat
Mike & Rachelle Bedke
John C. Bierley
Joan C. Boles
Lisa L. Brody
Mark A. Brown
Bob & Karen Buesing
The J. Clifford Cheatwood American Inn of Court
David P. Clark
J. Daniel Clark
Karen Cole and Truist's Legal Specialty Group
Jeff E. Cox
Heather A. DeGrave
JT Garabrant
George F. Gramling III
Paige A. Greenlee
Elizabeth Hapner
Barbara A. Hart
J. Fraser Himes
Patricia A. Huie
Joseph & Teresa Kadow
Kathleen Kloiber Koch
Sarah Lahlou-Amine
Sara Alpert Lawson
Britt & Kathy Massing
Carol S. Moody
Honorable Richard A. Nielsen & Linda Nielsen
Roxanne M. Null
Andrew M. O'Malley
Cory & Maria Person
Yohance A. Pettis
Justin B. Petredis
Woody Pollack
Eliane I. Probasco
Honorable Peggy A. Quince
Mark P. Rankin
D. Lawrence Rayburn
Ronald L. Roodhouse
Craig E. Rothburd
Joseph & Elizabeth Rugg
Susan Steinberg Sandler
Frederick S. Schrils
Jacqueline A. Simms-Petredis
The Honorable Robert J. Simms Memorial Fund
Tori C. Simmons
Alex Sink
Scott A. Stichter
J. Thomas Touchton
Amanda M. Uliano
Sylvia H. Walbolt
Richard & Katherine Woltmann
Katherine E. Yanes
Gwynne A. Young
Those who provided both pro bono service and monetary contribution in 2022. 
Steven K. Barber
Carolina Y. Blanco
Karen M. Buesing
Alexander Caballero
Citi's In-House Counsel
Shannon C. Clancy-Kimball
Anitra Raiford Clement
Jeanne L. Coleman
Martha A. Curtis
Honorable Wendy J. DePaul
Christine L. Derr
Ryan A. Doddridge
Amy L. Drushal
Oxalis B. Garcia
Elizabeth L. Hapner
Erica T. Healey
John C. Hood
Lisa B. Hurley
Vashti Jattansingh
Lorien Smith Johnson
Michael R. Kangas
Melodie Khosrovani
Kathleen Kloiber Koch
John J. Lamoureux
Tee H. Lee
Mary L. Greenwood McDermott
William E. Muñiz
Bill Navas
Andrew M. O'Malley
Mark H. Osborne
Sarah M. Papadelias
Eliane I. Probasco
Amanda E. Reagan
Andrew D. Reder
Angelica D. Roselló
Craig E. Rothburd
Alex M. Sarsfield
Ramsey W. Scheuerle
Katherine Cooper Scott
Michael P. Silver
Jocelyn M. Small
Scott A. Stichter
J. Coy Stull
Kenneth A. Tinkler
James J. Wimsatt
Mark J. Wolfson
J. Ryan Yant
Supporters who have made a planned gift to Bay Area Legal Services such as a bequest in their will. 
Michael A. & Rachelle D. Bedke
Joan C. Boles
Robert H. & Karen M. Buesing
Victoria A. Dowdle
R. Thomas Elligett, Jr.
Chuck & Beth Eppley
William C. & Alexandra Frye
Richard A. Gilbert
George F. Gramling III
Honorable Richard L. Greco, Jr. & Carol Greco
John A. Guyton, III
Elizabeth L. Hapner
Russell A. Harrison
Linda D. Hartley
Amy K. Jones
Carla C. Knight & The Late David T. Knight
Kathleen Kloiber Koch
J.P. & Lynda LaCasse
Cynthia J. Liles
Kathleen S. McLeroy
Carol Still Moody
Honorable Richard A. & Linda R. Nielsen
Alexandra E. Pullara
Daniel C. Reigle
Craig E. & Diane M. Rothburd
Alyssa A. Ruge
Sheila L. Seig
L. Casey Shear
Scott A. & Sarah B. Stichter
Sylvia H. Walbolt
Gary Walker
Edward M. Waller, Jr.
Rosemary E. Armstrong & Morris Weinberg, Jr.
Richard C. & Katherine H. Woltmann
Gwynne A. Young
William K. Zewadski
Honor Roll
The Late Hon. Don Castor
The Late Hon. Paul W. Danahy, Jr.
The Late Margaret D. Mathews
The Late L. David Shear
The Late Don M. Stichter
Judges who donated to our mission in 2022.
Honorable Herbert M. Berkowitz
Honorable Susan C. Bucklew
Honorable Marva L. Crenshaw
Honorable Caryl E. Delano
Honorable Wendy J. DePaul
Honorable Charlene V. Edwards-Honeywell
Honorable Donald C. Evans
Honorable Darren D. Farfante
Honorable Ronald N. Ficarrotta
Honorable Marion Lucas Fleming
Honorable Sean P. Flynn
Honorable H. Clyde Hobby
Honorable Claudia R. Isom
Honorable Doris E. Jenkins
Honorable Edward C. LaRose
Honorable K. Rodney May
Honorable Mac R. McCoy
Honorable Catherine Peek McEwen
Honorable Manuel Menendez Jr.
Honorable James S. Moody, Jr.
Honorable J. Logan Murphy
Honorable Richard A. Nielsen
Honorable Frances M. Perrone
Honorable Frederick L. Pollack
Honorable Anthony E. Porcelli
Honorable Peggy A. Quince
Honorable Amanda Arnold Sansone
Honorable Bernard C. Silver
Honorable Julie S. Sneed
Honorable Ralph C. Stoddard
Honorable Lynn Tepper
Honorable Cheryl K. Thomas
Honorable Wesley D. Tibbals
Honorable Christopher P. Tuite
Honorable Barbara Twine-Thomas
Honorable Samantha L. Ward
Honorable Thomas G. Wilson
Supporters in our monthly giving group.
Kimberly Aguilar
Linda L. Anderson Stanley
Cathy J. Beveridge
Joan C. Boles
Thomas A. Burns
Luis A. Cabassa
Kathryn J. Copeland
Jeffrey E. Cox
Janice N. Donica
Victoria A. Dowdle
Colette N. Duke
R. Thomas Elligett
Lisa Evans
Amy S. Farrior
JT Garabrant
Nikole D. Garcia Graham
Michelle Goldstein
Sam J. Hijab
William Hussey
Aaron M. Jacobs
Lorien Smith Johnson
Kathleen Kloiber Koch
J.P. LaCasse
Sarah Lahlou-Amine
Stuart C. Markman
Jason P. Mehta
Lisa Montero
Roxanne M. Null
Andrew M. O'Malley
Yohance A. Pettis
Peggy A. Quince
Craig E. Rothburd
Alan R. Sandler
Hala A. Sandridge
Alex M. Sarsfield
Tori C. Simmons
Glen A. Stewart
J. Coy Stull
Gary Walker
Richard C. Woltmann
Avila S. Zepp
Sustaining Law Firms donate $350 per attorney at their firm.
Firms that have made a 3-year pledge to our Justice Works! Campaign are bolded. 
Gail Martin Abercrombie, P.A.
Law Office of Christopher T. Abrunzo PLLC
Adoption Law Source, P.A.
Anton Garcia Law
Anton Legal Group
Armando Personal Injury Law
Asgard Legal PLLC
Banker Lopez Gassler P.A.
Barnett, Kirkwood, Koche, Long & Foster
Bates | Wallach
BaumannKangas Estate Law
Law Offices of Jeffrey A. Berger, P.A.
Betts Mediation
Frank P. Bianco, P.A.
Law Office of Ronald R Bidwell, P.A.
Black Swan Legal Counsel, PLLC
Richard A. Bokor, P.A.
Eric Boles Law Firm
Brandon Family Law Center, LLC
Brannock Humphries & Berman
Tae Kelley Bronner, P.L.
Buell & Elligett, P.A.
The Law Office of Walter G. Bullington, Jr.
Burnett Law, P.A.
Doug Burns, P.A.
Burr & Forman LLP
Carey, O'Malley, Whitaker, Mueller, Roberts & Smith, P.A.
Carney Law Firm, P.A.
Richard P. Caton, P.A.
Law Office of Nancy L. Cavey, PLLC
The Law Offices of Julia Best Chase, P.A.
Stephen C. Cheeseman, P.A.
Preston O. Cockey Jr., P.A.
Thomas E. Cone Jr., P.A.
Conwell Business Law, LLLP
Cooper Estate Law, PLLC
Law Office of Thaxter A. Cooper, P.A.
Cortes Hodz Family Law & Mediation, P.A.
Danahy & Dunnavant, P.A.
Da Silva Law Firm, P.A.
de la Parte & Gilbert, P.A.
Sharon Docherty Danco, PLLC
Delzer, Coulter & Bell, P.A.
The Diamond Law Firm, P.A.
Dickstein Law, P.A.
DLA Piper
Dolchin, Slotkin & Todd, P.C.
Law Offices of Timothy M. Doud, LLC
DPW Legal
Richard W. Driscoll, P.A.
Law Office of William T. Driscoll
Greg W. Dworzanowski, P.A.
Eaton Law
Empath Law
Epperson & Rich, PLLC
Fanelli Law Firm, P.A.
Paul Figueroa Law
Ford Harrison LLP
Germain Law Group
Bruce S. Goldstein, P.A.
Leo D. Gomez, P.A.
Rebecca A. Graham, P.A.
Law Offices Of Richard D. Green
Greco & Wozniak, P.A.
Melvia B. Green, P.A.
Greenlee Law, PLLC
Guerra King P.A.
Gunn Appellate Practice, P.A.
Gunn Law Group, P.A.
Gunster
Linda C. Hanna, P.A.
Law Offices of Han-Ralston, PLLC
Hapner Law
The Law Office of Timothy T. Harris
Harris, Hunt & Derr, P.A.
Law Office of Susan G. Haubenstock
Hilary High, P.A.
Hill Ward Henderson
Fraser Himes, P.A.
Hobbs and Hobbs, P.L.
Holcomb Law, PLLC
Patricia A. Huie, PLLC
Law Offices of George Hunter, P.A.
Ingram Injury Law
A. Woodson Isom, Jr., P.A.
Law Office of Audrey Jefferis, P.A.
Cole Jeffries, P.A.
Joyce & Reyes Law Firm
Edwin B. Kagan, P.A.
Karatinos Law, PLLC
Kay Family Law PLLC
Kirkner Family Law Group, P.A.
The Kimball Firm, P.A.
Stephen A. Koch, P.A.
Kynes Markman & Felman, P.A.
David Lanigan, P.A.
Law Office of R. Michael Larrinaga, P.A.
Lauro Law Firm
LaVoie & Kaizer, P.A.
Legacy Law of Florida, P.A.
Leon & Berg, P.A.
Vincent A. Leto, P.A.
Lieberman PLLC
Mark A. Linsky, P.A.
LTM Legal
Law Office Of Ricardeau Lucceus, PLLC
Magazine Law Group, LLC
Magro Law Firm, P.A.
Robert F. McKee, P.A.
McKnight Law Group
Melnik Legal PLLC
Mendes, Reins & Wilander PLLC
Lawrence E. Miccolis, P.A.
Mark E. Miller, P.A.
H. Lee Moffitt, P.A.
Denny Morgenstern, PLLC
Murray + Murray
The Law Office of John C. Murrow, P.A.
Nutter Law Group, P.A.
Oliveros Law
J. Steele Olmstead, P. A.
Paul | Knopf | Bigger, PLLC
Law Office of Justin Petredis
Alice M. Porch, P.A.
Lizbeth Potts, P.A.
Printy & Printy, P.A.
Probasco Law, P.A.
Jaime R. Quezon, P.A.
John H. Rains III, P.A.
Law Offices of David P. Rankin, P.A.
Law Office of Mark P. Rankin, P.A.
Reed & Reed Law, PLLC
Rinaldo Law Group
Rissman, Barrett, Hurt, Donahue, McLain & Mangan, P.A.
Kathryn L. Ritchie, P.A.
Rocke, McLean & Sbar, P.A.
Irene M. Rodriguez, P.A.
Craig E. Rothburd, P.A.
Law Firm of Deborah Lancia Ruiz, LLC
Rumberger | Kirk
Joseph C. Russo, P.A.
Rywant, Alvarez, Jones, Russo & Guyton, P.A.
Tamlyn S. Sbar, P.A.
Gordon J. Schiff, P.A.
Sessums Black Family Law
Jeffrey C. Shannon, P.A.
Mark Shelton, P.A.
Shullman Fugate PLLC
Shulman ADR Law, P.A.
Shutts & Bowen LLP
Silberman Law, P.A.
Singletary Law Firm, P.A.
Slutzky Law Firm
Christopher J. Smith, P.A.
Malcolm R. Smith, P.A.
Special Education Law and Advocacy
Sperry Law Firm
Bryan J. Stanley, P.A.
Stearns Weaver Miller
David W. Steen, P.A.
Stichter, Riedel, Blain & Postler, P.A.
R. Jeffrey Stull, P.A.
The C. Suszko Law Firm
John E. Sullivan, P.A.
Summerfield Law Office, P.A.
Tampa Divorce
Tanner Law Group LLC
Jeanne T. Tate, P.A.
Tischhauser Law Group
Tison Law Group
Law Office of Jack L. Townsend, Sr.
Law Office of Amanda M. Uliano, P.A.
Richard A Venditti, P.A.
Wagner McLaughlin, P.A.
Law Office of Edward H. Ward
Watkins Law Firm, P.A.
Rory B. Weiner, P.A.
Wenzel Fenton Cabassa, P.A.
Deborah Larned Werner, P.A.
Westchase Legal Center
Charles S. White, P.A.
Barbara L. Wilhite, P.A.
Wilkes & Associates, P.A.
Williams & Doddridge, P.A.
Teresa P. Williams, P.A.
Winters & Yonker, P.A.
Mark H. Wright, PLLC
Tom Young, Mediator, Arbitrator, Special Magistrate
Young & Partners, LLP
Young | Scanlan, LLC
Zuckerman Spaeder LLP
Donors ($350+)
Supporters who donated $350+ in 2022.
Mariam Ahmedani
Akerman LLP*
Matthew R. Allen
Jessica E. Alley
Rosemary E. Armstrong
B. Michael Bachman
Radha V. Bachman
Sarah M. Baggett
Gary E. Baker
David C. Banker
Benjamin W. Bard
Christine M. Beck
Richard T. Becker
David A. Beyer
Bilmar Beach Resort*
Brandon A. Blake
T. Lee Bodie
Robert S. Bolt
Jackson H. Bowman
Anne Boyle
Anita C. Brannon
Cathleen G. Bremmer
Buchanan, Ingersoll & Rooney PC*
Kirk L. Burnett
Paula Burnett
James J. Burns
Jennifer A. Burns
Susan E. Burrell
Stephanie N. Burt
David M. Caldevilla
Stephanie A. Caldwell
Dawn A. Carapella
Claire B. Carraway
J. Frazier Carraway
P. Lynn Cash
Richard T. Catalano
Denise K. Chamberlain
Crews W. Chambers
Michael L. Chapman
Patrick M. Chidnese
Joshua T. Chilson
John E. Clabby
Cameron S. Clark
Quinn B. Cockrell
Gary D. Coe
Vanessa N. Cohn
Karen E. Cole
Brian E. Collins
Rae Ann Compton
Andrew J. Conrad
Cheryl Cooper
Father C. Timothy Corcoran
A. Crosby Crane
Curt P. Creely
M. Brian Crim
James O. Davis
Jeanie M. Davis
Edward P. de la Parte
L. David de la Parte
Hugo S. deBeaubien
William B. Demeza
Daniel E. Dias
Margaret J. Diaz
Jennifer S. Dickerson
Dorothy V. DiFiore
Anthony J. DiPierro
Dean R. DiRose
Thomas M. Donegan
Katherine C. Donlon
Amy L. Drushal
Alexander Duarte
Duke Energy
Susan D. Dunlevy
Jean-Paul Durand
Julia P. Eckart
Stanley H. Eleff
Suzanne Ennis
Jane M. Fagan
Nancy J. Faggianelli
Stephanie Falcon
Nancy G. Farage
Alex C. Farris
Brian J. Fender
Rebecca Ferrell-Anton
Linda L. Fleming
Daniel R. Fogarty
Micah G. Fogarty
Rhonda S. Fraxedas
Anna Frederiksen-Cherry
Ashley A. Gallagher
Michelle Garcia Gilbert
Nikole D. Garcia Graham
T. Truett Gardner
S. Cary Gaylord
Charles G. Geitner
Leonard H. Gilbert
Richard A. Gilbert
Giselle M. Girones
Zachary J. Glaser
Robert B. Glenn
Gregory A. Glynis
W. Gregory Golson
Thomas M. Gonzalez
James W. Goodwin
Jason A. Gould
Todd B. Grandy
Danielle R. Green
Richard D. Green
Jennifer L. Griffin
Kimberly J. Gustafson
Matthew B. Hale
Darin L. Haller
Kenneth H. Harfenist
David A. Hayes
HCBA Young Lawyers Division
Dominique E. Heller
D. Graham Hill
Hillsborough County Bar Association
John L. Holcomb
Gail G. Holtzman
H. Steven Holtzman
John C. Hood
Ingrid M. Hooglander
Ian P. Hudson
Leon O. Hunter
Jessica M. Icerman
Scott C. Ilgenfritz
Anthonia N. Imudia
Timothy M. Ingram
Aaron M. Jacobs
Jeeves Law Group, P.A.*
David S. Jennis
Daniel E. Johns
Kevin D. Johnson
Scott G. Johnson
Amy K. Jones
Rachel A. Jones
Elisa D. Keller
Nicole C. Kibert Basler
Martha A. Kimball
Bradford D. Kimbro
Roddy King
Christopher S. Knopik
King Daniel L. LaFevers
Chelsie M. Lamie
John J. Lamoureux
Anastasia N. Landon
Joseph H. Lang
Ian C. Larson
Nancy A. Lauten
Laura E. Lawson
C. Martin Lawyer
Casey R. Lennox
D. Hywel Leonard
Stephen R. Leslie
Dennis J. LeVine
Jack A. Levine
Karen E. Lewis
Stephen A. Liverpool
Katherine Logue
Donna L. Longhouse
Lindsay P. Lopez
Julia S. Lucas
Cheryl S. Lucente
Nancy M. Lugo
Michael D. Malfitano
Bruce Marger
Miriam E. Mason
Morris C. Massey
Clifford W. Mayhall
Natalie L. McEwan
Mark McLaughlin
Kathleen S. McLeroy
Elita C. McMillon
Patrick J. McNamara
Gene McNichols
Jamie L. Meola
G. Christopher Meyer
J. Andrew Meyer
Cynthia A. Mikos
Jessica M. Miles Rubio
Minch B. Minchin
Jelena Miokovic
Randy J. Morell
Morgan & Morgan
Kristin K. Morris
John H. Mueller
Mutual of America*
Christina C. Nethero
Catherine G. Novack
OCC Road House & Museum LLC*
Angela S. Oehler
Richard Oliver
Kristen E. Over
Sue M. Parrish
Mike Peacock
Nancey G. Penner
Barbara B. Pennington
Gregory J. Perenich
David W. Persky
Walter J. Pietruszka
Gale B. Pinkston
Joe N. Pinkston
Robert K. Piper
Richard S. Pipkin
Nicolas Q. Porter
Charles A. Postler
Roselle M. Pujols
Kevin M. Puntney
Mary E. Quinn
Heidi H. Raschke
Robert C. Rasmussen
Raymond James Financial
Theodore J. Rechel
Jacquelyn D. Reed
Ryan J. Reed
Daniel C. Reigle
Tristan J. Reiniers
Edwin G. Rice
Darryl R. Richards
Fred S. Ridley
Catherine M. Rinaldo
Nicholas F. Rinaldo
David L. Robbins
Angela E. Rodante
Alan W. Roddy
Frederick M. Rothenberg
Paul G. Rozelle
Brian D. Rubenstein
Jessica D. Russ
Rick W. Sadorf
Rory G. Safir
Charles F. Sansone
Jonathan N. Santelli
Grace S. Santos
Lawrence J. Scanlon
Kenneth A. Scaz
Robert Schneider
Sheila L. Seig
Bo Sellitti
Efstratios M. Serbanos
L. Joseph Shaheen
Martin S. Shelby
Keith S. Shotzberger
Deanna K. Shullman
Albert P. Silva
David R. Singleton
David Smolker
Stanford R. Solomon
Andy B. Steingold
Christopher J. Stephens
Sterling Foundation Management, LLC
Philip W. Stichter
Steven J. Stichter
Stephen B. Straske
Stewart Title Co.
Stephen K. Stuart
Eduardo A. Suarez
Donata S. Suplee
Patricia Tager
Laura W. Tanner
Scate Telusnord
Catherine P. Teti
James D. Thaler
Stella F. Thayer
Molly E. Thomas
Ramona H. Thomas
Brian L. Thompson
Thompson Brand Images*
Kenneth E. Thornton
Mark D. Tinker
Marie T. Tomassi
Triad Foundation, Inc.
Robert S. Trinkle
Truist's Legal Specialty Group*
Barbara P. Vaka
George A. Vaka
Julee K. Vance
Gary Walker
Leslee J. Wallach
Edward M. Waller
Alysa J. Ward
Christopher D. Watson
Roberta C. Watson
Gerard F. Wehle
Susan M. Whitaker
Clement H. White
Louis Whitehead
Kailyn M. Williams
Peter Williamson
Peter J. Winders
William Winkenwerder
Timothy D. Wolf
Mark J. Wolfson
George N. Wood
Thomas M. Wood
Kevin B. Woods
Woods Trial Law
W. Cary Wright
Barbara M. Yadley
John A. Yanchunis
Andrea E. Zelman
Terry A. Zitek
Kevin D. Zwetsch
Local Inns of Court that support our mission with annual volunteer and fundraising efforts.
The Stann Givens Family Law American Inn of Court
The J. Clifford Cheatwood American Inn of Court
C.H. Ferguson- M.E. White American Inn of Court
Special Thanks to Our Volunteers
Jacqueline Acosta
Martha Aristizabal
Christie Arkovich
Haley Ayure
Steven Barber
Monica Barone
Erica Bartimmo
Mark Baseman
Sheron Bass
Meredith Bedell
George Bedell III
Katherine Bender
Lourdes Bernal-Dixon
Carolina Blanco
Mary Borja
Patricia Bradford
Jeffrey Bristol
Elizabeth Brusa
Crystal Bucciarelli
Karen Buesing
Oran Byrd
Alexander Caballero
Patricia Calhoun
Julie Calidonio
Charis Campbell
Joseph Carlisle
Azhar Cheema
Lea Christensen Bueno
Shannon Clancy-Kimball
Anitra Clement
Jeanne Coleman
Steven Collins
Kraesly Creek
Elizabeth Cuenca
John Cunningham
Martha Curtis
L. Cutter
Mischelle D'Angelone
Lara Davis
Sofia De Vito
George Dekle III
Andrew Del Real
Blake Delaney
Wendy DePaul
Christine Derr
Leigha DiGregory
Christine Diorio
Ryan Doddridge
Amy Drushal
Christopher Duda
Shana Duehring
Luis Duran
Andrew Emerson
Ronald Espinal
Diana Evans
Kathryn Everlove-Stone
Peter Farren
Vanessa Ferguson
Kristopher Fernandez
Tamara Feuer
Aaron Furniss
Laura Gallo
Ying Gao
Oxalis Garcia
Jon Gatto
Barbara Ginn
Christian Givens
Paul Godfrey
G. Golden
Andrew Goring
Katie Gosche
Nathan Gruman
Justin Gutierrez
William Hamilton
Danita Handlin
Elizabeth Hapner
Chandler Harris
Norman Harris
Isaiah Harvey
Erica Healey
Steven Hearn
Harley Herman
Charles Holloman II
John Hood
Tania Huerta
Laura Hughes
Lisa Hurley
Royell Jackson
Jennifer Jankes
Vashti Jattansingh
Lorien Johnson
Julie Jouben
James Julian
Stephanie Kane
Michael Kangas
Sarah Kay
Michael Keenan
Jeffrey Kern
Melodie Khosrovani
Robert Kline
Kathleen Koch
Michael Kolcun Jr.
John Lamoureux
John Lawless
Tee Lee
Sunny Levine
Robert Lovett
Malinda Lugo
Matthew Lundy
Matthew Maggard
Paul Maney
Keyara Marshall
Timothy Martin
Julius Matusewicz
Mary McDermott
Elaine McGinnis
Daniela Mendez
Nicole Monroe
Mark Mooney
Francis Mora
Kacie Moscrip
William Muniz
Elizabeth Murray
Megan Murray
Adrian Musial Jr.
Bill Navas
Danielle Noble
Alexa Nordman
Michael Norvell
Fehintola Oguntebi
Andrew O'Malley
Mark Osborne
Olga Ott
Natalia Ouellette
Tristan Overcashier
Ralph Painter Jr.
Sarah Papadelias
Paul Phipps
Brian Porter
Cara Powell
George Powell Jr.
Eliane Probasco
Fernando Ramos
Amanda Reagan
Andrew Reder
Randall Reder
Chaila Restall
Paul Riffel
Clara Rokusek
Angelica Rosello
Craig Rothburd
Laura Ruiz Rivera
Evan Sagar
Angela Sarabia
Alex Sarsfield
Ramsey Scheuerle
Harvey Schonbrun
Katherine Scott
Rachel Sgroi
Olin Shivers
Michael Silver
Jocelyn Small
Christopher Smart
Donald Smith Jr.
Scott Stichter
J. Coy Stull
Charles Stutts
Paul Suppicich
Lauren Taylor
Laurel Tesmer
Michael Tetelman
Deborah Thomson
Kenneth Tinkler
Heather Trkovsky
John Tuthill
Scott Underwood
Kit Van Pelt
Wendy Vargas
Sofia Varon
Lavinia Vaughn
Leonardo Vera
Eric Vercauteren
Colleen Wapole
Matthew Weidner
Jerron Wheeler
Dierdre White
Adriannette Williams
Donatellio Williams
Ya'Sheaka Williams
Stephanie Willis
Dessa Willson
James Wimsatt
Mark Wolfson
Suzane Woollums
John Yant
Apply for Services
If you live or have a case in Hillsborough, Manatee, Pasco, Pinellas or Sarasota counties, we may be able to help.