Legal Information Center Celebrates 20 Years of Service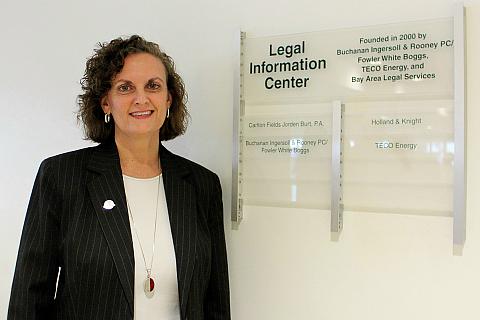 Twenty years ago this month, Bay Area Legal Services established the Legal Information Center, a free program that helps family law pro se litigants navigate the legal system.
The idea for the Legal Information Center started with two of the attorneys who donated their time to the original volunteer project, Courthouse Assistance Program (CAP). In their five years volunteering at CAP, Hala Sandridge, an appellate lawyer from Fowler White, and Sheila McDevitt, general counsel at TECO, realized that lawyers more familiar with family law would better serve people who came to CAP. They persuaded Fowler White and TECO to contribute to a family law attorney's salary at Bay Area Legal to staff a room in the courthouse, which became the Legal Information Center. The Legal Information Center started in Room 251 of the old Hillsborough County Courthouse, moved to Room 203 of the George Edgecomb Courthouse when it was built, joined the Clerk's office in 2018 in their main customer service center, and now during the pandemic, operates remotely. Funding for the Legal Information Center is provided by TECO Energy and the law firms of Holland & Knight and Carlton Fields, and the Clerk of the Circuit Court donates courthouse space and resources.
Legal Information Center services have always been free of charge and free of income or asset restrictions. Unlike other Bay Area Legal Services programs, the Legal Information Center is not an advocacy program. It provides education for family law pro se litigants to help them navigate the legal system so they can be heard.  With more information and a clearer understanding of the process, most people are better equipped to make informed decisions about their case and proceed without a lawyer. Susan Miles Whitaker, a Bay Area Legal staff attorney, has operated the Legal Information Center from the very start. In the last twenty years, she has assisted almost 120,000 pro se litigants. She also writes and revises all of the pro se family law instructions and local forms for the 13th Judicial Circuit.
Susan is a graduate of Stetson University College of Law and joined Bay Area Legal Services in 1997. In 2012 Susan was awarded the 13th Judicial Circuit Chief Judge's Award to recognize her outstanding effort and commitment to the Court in providing services through the Legal Information Center. In 2014 Susan was awarded the Theodore Millison Professionalism Award from the Stann Givens Family Law Inn of Tampa. She has been a member of that Inn since its inception in 1995 and has served as its Executive Director for the last six years. In 2016, Susan and the Legal Information Center were featured on Bay News 9's "Everyday Heroes" program. Susan also serves on the Hillsborough County Law Library Advisory Board and serves as Secretary of the Hillsborough County Bar Association's Family Law Section Executive Council.
Apply for Services
If you live or have a case in Hillsborough, Manatee, Pasco, Pinellas or Sarasota counties, we may be able to help.