Tampa Bay Lightning Provides $25,000 to Veterans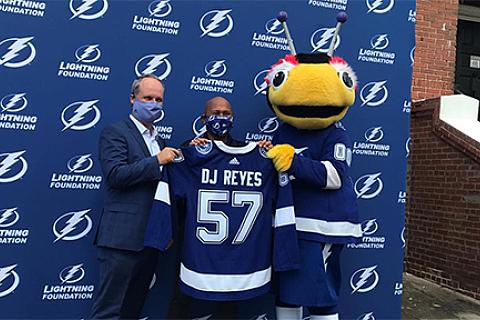 The Lightning Foundation and ThunderBug were onsite at our Ybor City office on Wednesday, September 15. The group presented its annual Tampa Bay Lightning Community Hero Award to Col. DJ Reyes.
The Lightning Foundation and Lightning Community Heroes program gave DJ the option to designate this $50,000 award to any charity of his choice. DJ kindly presented Bay Area Legal Services with $25,000 and distributed the remaining $25,000 to Hillsborough County Veterans Helping Veterans and Mentors for Hillsborough County Veterans. All organizations near and dear to his heart!
Bay Area Legal Services' donation will go to its Major General Ernest A. and Marilyn Bedke Veterans Law Center.
Apply for Services
If you live or have a case in Hillsborough, Manatee, Pasco, Pinellas or Sarasota counties, we may be able to help.