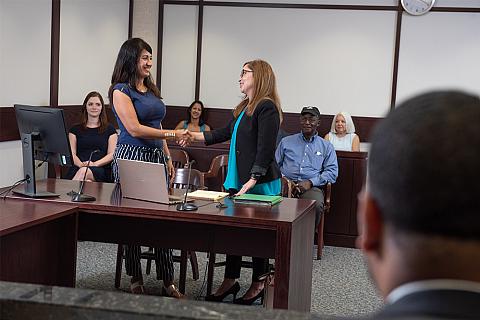 Every year, millions try to navigate U.S. courts without a lawyer. These Judges are changing that.
Our Judges Joining Forces campaign creates pathways to justice for low-income people. Our supporters believe that justice and fairness are a right, not a privilege.
A gift of any amount from a Judge or retired Judge provides recognition as a Judges Joining Forces member.
Your Gift:
Supports our Legal Information Center and Family Forms Clinic at the Hillsborough County Courthouse, helping pro se litigants.
Provides attorneys and pro bono support to low-income community members.
Alleviates congestion in the court system and creates a more efficient process for all.
Thank you to all of our judges for their generous support!
2020 Members
The Honorable Richard L. Greco
The Honorable Bernard C. Silver
2019 Members
Honorable Chris W. Altenbernd
Honorable Rex Martin Barbas
Honorable Herbert M. Berkowitz
Honorable Catherine M. Catlin
Honorable C. Timothy Corcoran, III
Honorable Marva Louise Crenshaw
Honorable Paul W. Danahy
Honorable Caryl E. Delano
Honorable Richard L. Greco
Honorable Elizabeth A. Jenkins
Honorable Paul T. Jeske
Honorable Catherine Peek McEwen
Honorable Manuel Menendez, Jr.
Honorable James S. Moody, Jr.
Honorable Emily Peacock
Honorable Samuel Salario, Jr.
Honorable William H. Seaver
Honorable Julie Sneed
Honorable Lynn Tepper
Honorable Christine Voge
Still have questions?
If you live or have a case in Hillsborough, Manatee, Pasco, Pinellas or Sarasota counties, we may be able to help.
and we will call you back.