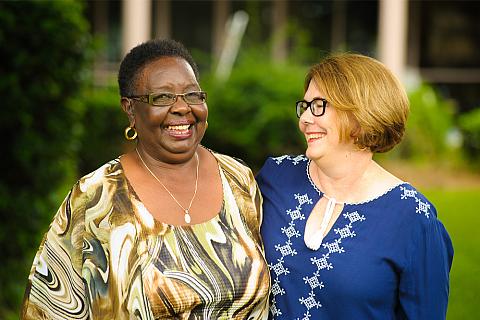 Bring Something Special to the World
Make a gift through your estate that costs nothing during your lifetime.
Make equal access to justice a piece of your legacy. You can create a thoughtful planned gift that will benefit Bay Area Legal Services now and for years to come.
Legacy giving can be as simple as including a bequest in your will or adding Bay Area Legal as a beneficiary on a life insurance policy or retirement asset. By doing so, you will become a member of Bay Area Legal's Legacy for Justice Society and ensure justice to those in need for years to come.
For more information, contact our Development office at 813-232-1222 ext. 156 or at development@bals.org.
If you have already added us to your estate plan, please notify us so we may welcome you as a member of our Legacy for Justice Society.
Members of the Legacy for Justice Society
2005*
2007*
Rosemary Armstrong & Sandy Weinberg
Joan Cain Boles
Hon. Paul Danahy
Raymond T. (Tom) Elligett, Jr.
Chuck & Beth Eppley
George F. Gramling III
Cynthia Liles
Carol Still Moody
Margaret D. Mathews
Alyssa A. Ruge
Sheila Seig
L. Casey Shear
Sylvia H. Walbolt
Gary Walker
Richard & Katherine Woltmann
2009
2010
Judge Rick & Linda Nielsen
2011
Richard A. Gilbert
Hon. Dick Greco, Jr. & Carol Greco
Linda D. Hartley
J.P. & Lynda LaCasse
2014
Kathleen Kloiber Koch
Mike & Rachelle Bedke
Rose G. Brempong
Amy Jones
Leslie Schultz-Kin
William & Alexandra Frye
2015
Russell A. Harrison
John A. Guyton, III
David & Carla Knight
Bob & Karen Buesing
2016
Alexandra Pullara
Sarah and Scott Stichter
Elizabeth (Betsey) Lynn Hapner
Craig & Diane Rothburd
Tori Baptist
Daniel Reigle
2017
Gwynne A. Young
Kathleen S. McLeroy
Honor Roll
The Late Hon. Don Castor*
The Late L. David Shear
The Late Don M. Stichter
*Founding members.
Still have questions?
If you live or have a case in Hillsborough, Manatee, Pasco, Pinellas or Sarasota counties, we may be able to help.
and we will call you back.