Legacy for Justice Society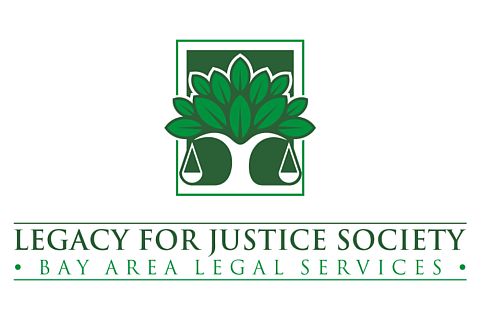 Make a gift through your estate that costs nothing during your lifetime.
Make equal access to justice a piece of your legacy. You can create a thoughtful planned gift that will benefit Bay Area Legal Services now and for years to come.
Legacy giving can be as simple as including a bequest in your will or adding Bay Area Legal as a beneficiary on a life insurance policy or retirement asset. By doing so, you will become a member of Bay Area Legal's Legacy for Justice Society and ensure justice to those in need for years to come.
If you have already added us to your estate plan, please notify us so we may welcome you as a member of our Legacy for Justice Society.
Legacy for Justice Society Members
2005*
2007*
Rosemary E. Armstrong & Morris (Sandy) Weinberg, Jr.
Joan C. Boles
Raymond (Tom) T. Elligett, Jr.
Chuck & Beth Eppley
George F. Gramling III
Cynthia J. Liles
Carol Still Moody
Alyssa A. Ruge
Sheila L. Seig
L. Casey Shear
Sylvia H. Walbolt
Gary Walker
Richard (Dick) C. & Katherine H. Woltmann
2009
William (Bill) K. Zewadski
2010
Hon. Richard (Rick) A. & Linda R. Nielsen
2011
Richard A. Gilbert
Hon. Richard (Dick) L. Greco, Jr. & Carol Greco
Linda D. Hartley
J.P. & Lynda LaCasse
2014
Kathleen Kloiber Koch
Michael (Mike) A. & Rachelle D. Bedke
Rose G. Brempong
Amy K. Jones
Hon. Leslie K. Schultz-Kin
William (Bill) C. & Alexandra Frye
2015
Russell (Russ) A. Harrison
John A. Guyton, III
David T. & Carla C. Knight
Robert (Bob) H. & Karen M. Buesing
2016
Alexandra E. Pullara
Scott A. & Sarah B. Stichter
Elizabeth (Betsey) L. Hapner
Craig E. & Diane M. Rothburd
Victoria (Tori) Dowdle
Daniel (Dan) C. Reigle
2017
Gwynne A. Young
Kathleen S. McLeroy
Honor Roll
The Late Hon. Don Castor*
The Late L. David Shear
The Late Don M. Stichter
The Late Margaret D. Mathews
The Late Hon. Paul W. Danahy, Jr.
*Founding members
Apply for Services
If you live or have a case in Hillsborough, Manatee, Pasco, Pinellas or Sarasota counties, we may be able to help.