Bay Area Legal Services Extends Aid To Seniors in Hardee, Highlands and Polk Counties
Beginning September 26, 2022, the Senior Advocacy Unit at Bay Area Legal Services will extend its civil legal services to seniors in Hardee, Highlands, and Polk counties. This expansion is made possible by Title III funding through Senior Connection Center. Title III of the Older Americans Act makes legal assistance available specifically for the elderly.
The Senior Advocacy Unit already has a presence in Hillsborough County, assisting eligible seniors aged 60 years or older with their civil legal matters that relate to housing, caregiver services, public benefits, guardianship, and elder abuse prevention. Last year, Bay Area Legal helped more than 4,000 seniors with their complex legal issues.
The expansion of Bay Area Legal's senior team will broaden its impact into the Central Florida region. Bay Area Legal's extended services in Hardee, Highlands, and Polk counties are only available to eligible seniors.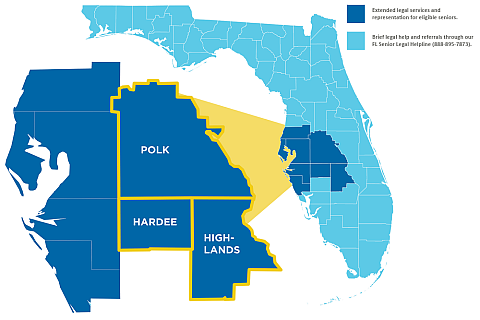 Bay Area Legal Services will continue to serve seniors statewide through the Florida Senior Legal Helpline (888-895-7873). The helpline, funded by the Florida Department of Elder Affairs and managed by Bay Area Legal Services, provides telephonic brief services and advice to senior residents of Florida. 
For more information on services provided by the Senior Advocacy Unit at Bay Area Legal, visit our Senior Services page.
Apply for Services
If you live or have a case in Hillsborough, Manatee, Pasco, Pinellas or Sarasota counties, we may be able to help.