Columbia Restaurant's 24th Annual Community Harvest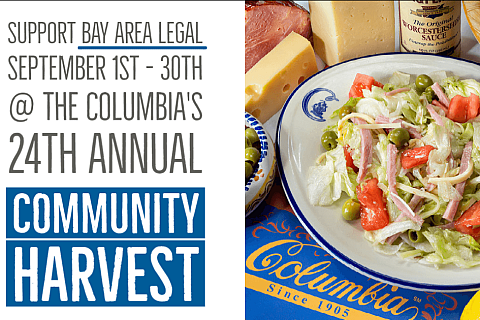 September's Spanish Cuisine
During the month of September, you can help Bay Area Legal Services benefit from dining in or ordering takeout from Columbia Restaurant.
Guests dining at Columbia this month will be provided a ballot, listing the names of deserving nonprofit organizations. Bay Area Legal Services has been chosen as one of the listed nonprofits on the ballot. At the purchase of each meal, customers will be prompted to select the nonprofit of their choice from the ballot, and a contribution equal to 5% of the combined food and beverage value will be donated to the nonprofit of the customer's choice in the form of a Columbia restaurant gift certificate.
In a group of worthy causes, we hope that you select Bay Area Legal Services as your designated charity when you dine with Columbia Restaurant during the month of September. Be sure to tag us on social media when you dine-in or order takeout in September.
We hope you have an appetite for justice during this September promotion!
5 Tampa Bay area Locations
Ybor City Historic District
Columbia Restaurant
2117 E. 7th Ave. Tampa, FL 33605
(813) 248-4961
Tampa Bay History Center
Columbia Cafe
801 Water Street
Tampa, Florida 33602
(813) 229-5511
Tampa International Airport
Columbia Restaurant Cafe
(813) 947-7264
Sand Key
Columbia Restaurant
1241 Gulf Boulevard
Clearwater, FL 33767
(727) 596-8400
St. Armands Circle
Columbia Restaurant
411 St. Armands Circle
Sarasota, FL 34236
(941) 388-3987
Apply for Services
If you live or have a case in Hillsborough, Manatee, Pasco, Pinellas or Sarasota counties, we may be able to help.