The Don M. Stichter Endowment Raises $230K to Keep Seniors in Their Homes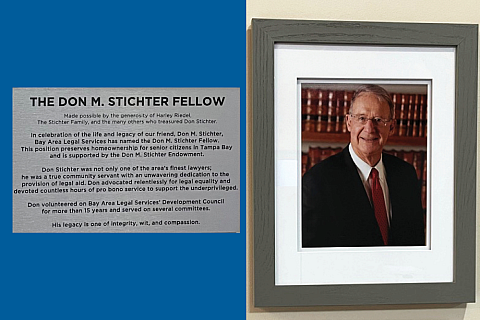 In 2020, Bay Area Legal Services reached its fundraising goal of $75K to establish the Don M. Stichter Endowment at the Community Foundation of Tampa Bay. Since then, the endowment has breached $230K. The endowment was named in memory of legal legend and longtime Bay Area Legal supporter, Don M. Stichter of Stichter, Riedel, Blain & Postler, P.A. The fundraising initiative was led by longtime supporter and past board chairperson, Gwynne Young.
Thanks to leadership gifts from the endowment's founders, Harley Riedel, Ellen Stichter, and Scott Stichter along with heartwarming generosity from the many friends, family members and colleagues of Don, the Community Foundation of Tampa Bay's $75K challenge was met, which they matched with an additional $25K. Since then, friends and loved ones have continued to contribute to Don's legacy of fairness and justice through the endowment.
These funds will ensure the future of critical services provided by the Don M. Stichter Fellow, a position that preserves homeownership for low-income and marginalized seniors. These seniors face major legal issues, such as foreclosure, unclear home title, construction fraud, and Chapter 13 bankruptcy. To commemorate Don's legacy, Bay Area Legal Services installed a plaque in the halls of the Senior Advocacy Unit, located at their HQ Office in Ybor City.
Donations at Work: Meet Senior Client, Thomas
Access to justice can mean everything to a struggling senior. To 77-year-old Air Force veteran, Thomas, it meant keeping his home. After Thomas lost his job while undergoing cancer treatment, he quickly fell behind on his condo fees. He had hoped to maintain his independence as long as possible, but he feared the worst when the association filed for foreclosure. Thankfully, he called Bay Area Legal, where our Senior Advocacy Unit took his case and filed for a Chapter 13 Bankruptcy just days before the condo was set to go on the market. The Don M. Stichter Fellow worked the case and finalized the order this year, relieving Thomas of $12K in debt. Today, Thomas is thankful to remain in his home and stay active in the community that he grew up in.
Apply for Services
If you live or have a case in Hillsborough, Manatee, Pasco, Pinellas or Sarasota counties, we may be able to help.