Supporter Q&A: Citi's Alexandra Ellison
Q&A with Volunteer Attorney, Alexandra Ellison, Assistant General Counsel at Citi
We chatted with volunteer attorney Alexandra Ellison on Citi's long history of pro bono support, and why Citi became a Justice Lover last year with a corporate gift in addition to their attorney's time.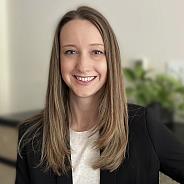 How did you get involved with Bay Area Legal?
I was first introduced to Bay Area through Citi's Tampa Pro Bono Committee. Citi has been partnering with Bay Area Legal Services for many years through various clinics. Most recently, Citi worked with Bay Area and Raymond James to host a client intake clinic as part of Financial Institution Pro Bono Day - bringing together volunteer attorneys and legal staff from our respective financial institutions to provide virtual pro bono legal assistance in order to address critical legal needs of the underserved in our communities.
What would you say to other attorneys who are interested in giving back?
Don't be afraid to try something new. Many attorneys find it intimidating to provide pro bono services which are outside of their scope of practice – especially those of us who work in-house. However, the skills we have acquired as trained lawyers are transferable. Even the smallest effort can mean the world to those in need.
In what ways has Citi supported the philanthropic interests of you and your colleagues?
Volunteerism is not only encouraged at Citi - it is an integral part of Citi's culture. Citi provides employees with a wide variety of volunteer opportunities year-round and even encourages staff to seek out their own initiatives (outside of Citi-sponsored events) by offering a paid 'Volunteer Day' each year.
What does justice mean to you in one to three words?
Equality and dignity.
Why is pro bono work important to you?
I believe that volunteerism is vital to the success not only of individual organizations and institutions, but to the community as a whole. There is a large gap between the number of people who need legal services and those who can afford them. Part of our responsibility as lawyers is to use our time and talents to help bridge this gap.
What's an accomplishment you're proud of?
My mom, Angie Ellison, is the executive director of a non-profit who has dedicated her life's work to community action and volunteerism. As a single parent, her overarching goal has been to set an example for her two daughters. I'm most proud that I've made her proud.
Do you have a favorite quote that you'd like to share?
"Injustice anywhere is a threat to justice everywhere. We are caught in an inescapable network of mutuality, tied in a single garment of destiny. Whatever affects one directly, affects all indirectly." - Martin Luther King Jr.
Apply for Services
If you live or have a case in Hillsborough, Manatee, Pasco, Pinellas or Sarasota counties, we may be able to help.