Joanne Lawson served in the Army decades ago, but the trauma of her experiences still haunts her today.
For Joanne, the enemy existed within her unit. She is a survivor of Military Sexual Trauma (MST), which has affected an estimated 1 in 3 women and 1 in 100 men within the VA healthcare system.
The veteran's struggles only worsened when, many years later, her daughter suffered a similar fate: a sexual assault at the hands of an officer. Despite seeking help and treatment, her daughter was ultimately unable to cope and made the tragic decision to end her life.
"I kind of had a meltdown and it brought back some memories," Joanne said of her daughter's death, "because they didn't stop her rapist either. It was an officer. She went to a psychiatric place and he went to Hawaii."
Joanne's life-altering loss unburied years of psychological trauma. She began seeing a grief counselor at the James A. Haley Veterans' Hospital. Recognizing that Joanne was also struggling financially due to a miscalculation of benefits, the counselor referred her to Bay Area Legal Services, where she began working with Attorney Maria Ceballos-Zagales of the Major General Ernest A. and Marilyn Bedke Veterans Law Center.
Attorney Ceballos-Zagales encouraged Joanne to consistently attend therapy through the VA Hospital. "It was hard for Joanne to express the full impact of her survivor struggles," said Ceballos-Zagales. "The symptoms had become her new normal."
Throughout this process, Joanne was finally able to express how her traumas and tragedies had nearly destroyed her life. And with the help of Bay Area Legal Services, her disability rating was significantly increased. "Now I don't have to worry about losing my home," Joanne stated. "Don't have to worry about how I'm going to afford groceries."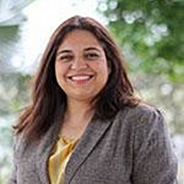 Joanne's life has changed for the better since working with Bay Area Legal Services.
"Everybody I've worked with is just wonderful," she said. "And Maria is really something special. She did a lot of paperwork, a lot of phone calls, listened to me cry. Y'all have been just phenomenal."